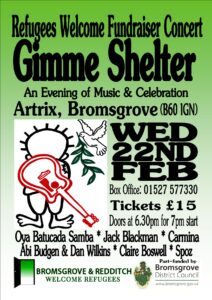 A SHOWCASE of local musicians are set to perform at Artrix to raise funds to support refugees.
Organised by Bromsgrove and Redditch Welcome Refugees (BRWR), 'Gimme Shelter' is a fundraising concert supporting the local Syrian community who arrived this summer and to help refugees displaced across Europe.
Held on Wednesday (February 22) at 7pm, the concert will see performances from Rubery poet 'Spoz, Oya Batucada Samba, Jack Blackman, Abi Budgen and Dan Wilkins.
Alistair Waugh of BRWR, said: "We're planning a sensational night with a lively Samba band, Bromsgrove's Town Crier and a wealth of local talent that spans several styles.
"The message behind the concert is simple; we all feel love and pain. And we all deserve a safe place to live.
"We chose the title 'Gimme Shelter', by The Rolling Stones, as the song sums up the cause well."
BRWR also works in partnership with Worcestershire charity 'People In Motion' who are helping at refugee camps in France, Serbia and Greece.
Tickets cost £15 and are available at Artrix Box Office on 01527 577330 or visit www.brwr.uk for more information.